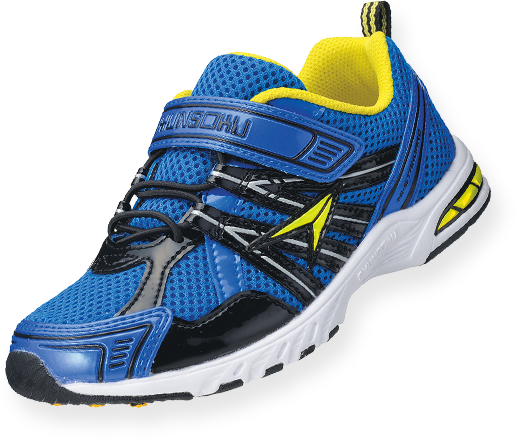 Syunsoku [ ʃɪn so ku ]
In Japanese, "SYUN" stands for "瞬" which means "flash", "instant"; "SOKU" stands for "足" which means "feet". So in general, "Syunsoku" can be explained as "flash feet" which fully describe high speed and power. Syunsoku sports shoes is owned by Achilles which is a highly influential company in Japan.
Achilles is founded in 1947, and until 2016, it has 1500 employees, 15 billion (Yen) capital, and 90 billion (Yen) sales. As to Syunsoku, it sold more than 60 million pairs of shoes in 10 years.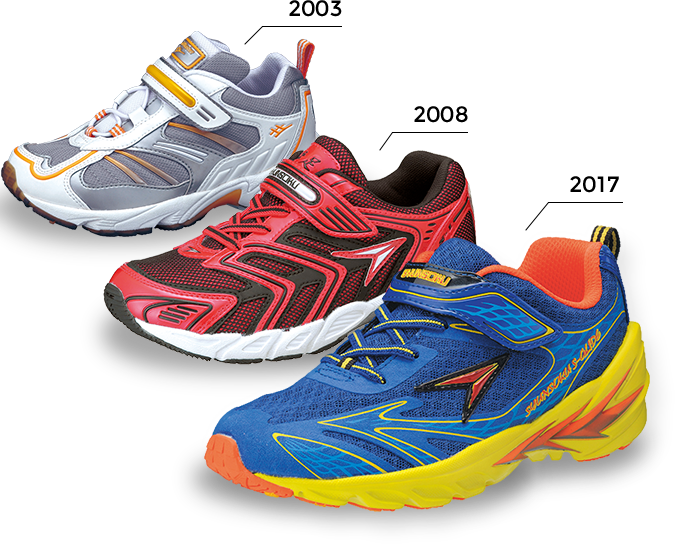 History
Syunsoku is the best-selling sports shoes for children in Japan.
Syunsoku sports shoes have been developed to support children whose dream is to run fast in track events.
In only ten years or so since its launch in 2003, Syunsoku has quickly captured the hearts of children, becoming the best-selling sports shoes for children in Japan. The greatest characteristic of Syunsoku lies in its soles. The idea of asymmetrical soles has been developed so that the shoes enable wearers to run with all their strength by keeping their footing when cornering counterclockwise.
Furthermore, Syunsoku's proprietary "Sokuiku (foot growth)" design helps children's feet grow properly as they develop. It also pursues stylish designs by using themes and stories after which children yearn.
Syunsoku provides dreams to children who wish to run fast, stay healthy, and be fashionable.
Syunsoku would like to take the opportunity of its tenth anniversary to send the brand message "The future is formed from your feet."
Achilles continues to be committed to making shoes with the future of children in mind.
Identity
Asymmetrical soles

Defying the conventional wisdom that the right and left soles of shoes should be designed symmetrically, Syunsoku arranges its spikes on the inner side of the right sole and on the outer side of the left sole, thus enabling wearers to grip the ground when cornering counterclockwise. Developers have created shoes that enable fast-running children to run faster and give hope to slow-running children under the slogan, "Open a lead when cornering!"

A wide variety of models

In addition to its basic feature of providing good cornering through asymmetrical sole designs, Syunsoku offers a lineup of functional models that are suitable for various occasions. These models have specialized features with their soles shaped to serve various purposes such as playing soccer and dancing. Syunsoku models cater to a wide range of needs according to the lifestyles of children.

Designs that children yearn for

The design of some models uses animals such as cheetahs, which run through the field, and others refer to the design of Pegasus's wings. Thus, Syunsoku pursues unique designs so that children become so excited when they put their shoes on that they want to start running.
SO・KU・I・KU Concept
For child's feet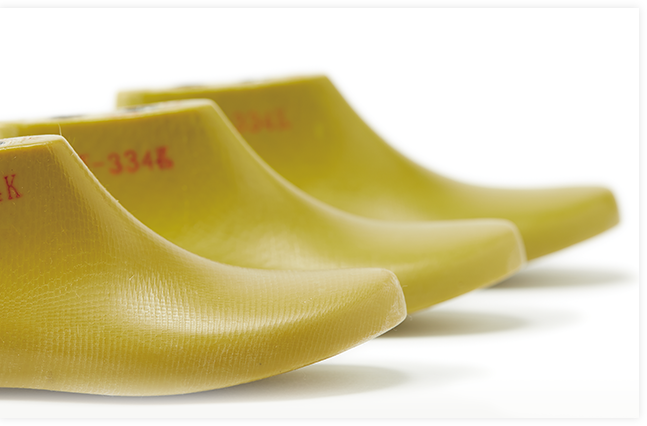 "Sokuiku (foot growth)" design—the quality of Syunsoku shoes
supports healthy growth of children's feet
Most foot ailments occur because people wear shoes that do not fit their feet. By emphasizing the effects foot growth has on the entire body and designing shoes based on its proprietary concept of "foot growth," Syunsoku is working to develop shoes that do not easily cause foot ailments to children and that support healthy growth of their feet.
Based on the Japanese Industrial Standards, Syunsoku designs for each size wooden molds that correspond to the growth of children's feet.
01

Syunsoku offers shoes that correspond to the growth of children

Soft shoes with features that are foot-friendly

This period requires shoes that support babies' feet gently.
Since the structure of babies' foot bones is soft, it is important to choose flexible shoes that do not hamper the healthy growth of their feet.

Shoes that support children in walking properly

During this period, shoes that encourage growth of children's feet are needed.
Encouraging children who are starting to walk to wear appropriate shoes and do a reasonable amount of exercise is important to ensure their bone structure
forms correctly.

Shoes with full features that support exercise

When children enter the period during which they start to exercise to their heart's
content, shoes that support sound growth of their feet and at the same time provide fuller athletic features are needed. Moreover, Syunsoku offers shoes designed for various occasions and lifestyles such as children in upper grades in elementary school and adults.

Designing wooden molds for each size

Syunsoku measures the feet of children and designs shoes based on such measurement data. This allows Syunsoku to obtain a clear understanding of the characteristics of their feet, which change as they grow, and develop shoes that fit their feet properly and do not easily cause foot ailments.

02

Syunsoku's proprietary Sokuiku design,
which varies according to the growth of children

Design to allow ample space for toes

Children's toes grow thinly.
For each size, Syunsoku changes its design for the toes.

Designing the height of shoes by size

The feet of children become thicker as they grow. For each size, Syunsoku changes its design for the height of feet.

Designs that consider differences in heel heights

For each shoe size, a reasonable angle is used for the tread and heel of the shoes. Syunsoku's uniquely designed shoes stabilize the unstable movement of children's feet as they grow and encourage normal growth.

03

Syunsoku allows children to choose shoes that fit the width of their feet

Syunsoku offers a lineup of shoes for boys and girls ranging from 1E for narrow feet to 3E for wide feet.
Choosing shoes that best suit one's feet really fulfills the requirement for good running.

04

Designs that meet the movement
of children

Sole that bends considerably

Syunsoku's flexible sole supports the movement of feet so that they bend naturally when walking.

Heel counter

Syunsoku's heel counter holds the heel firmly, preventing it from moving laterally.